Virginia Selected for IBMA SongwriterShowcase! 
Gary's song "Virginia" has been selected for the 2019 IBMA Songwriter Showcase that will be held on September 26 at the IBMA World of Bluegrass in Raleigh.  Check it out in Audio!
It's Here!
East of Monroe's debut CD, By The River's Edge, is now available at CDBaby, iTunes, Amazon, eastofmonroe.com and other retailers.  For more information, please visit: http://cdbaby.com/cd/eastofmonroe Two Wammie Nominations!
 Gary received two Wammie nominations from the Washington Area Music Association for the 30th annual Washington Area Music Awards: Bluegrass Instrumentalist and Bluegrass Recording (with Gary Gene Ferguson for Some Bridges).
Thanks everyone and congratulations to the other nominees!
IBMA Songwriter Showcase! 

Gary's song "Southern Train" was selected for the 2015 IBMA Songwriter Showcase that was held at the IBMA World of Bluegrass in Raleigh.
Ferguson & Ferguson - Some Bridges
Ferguson & Ferguson "Some Bridges" EP is now available on CDBaby, Amazon and iTunes. Including five original songs and one classic number, the recording features performances by Ron Stewart and Mark Schatz and was engineered by George Hodgkiss.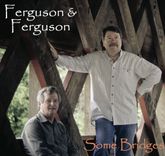 Here is what noted musicologist Jack Bernhardt says about "Some Bridges:" 
"Bluegrass fans and fans of good music generally, may want to check out Ferguson and Ferguson, 'Some Bridges.' Although they claim no genealogical nexus, Gary Gene Ferguson and Gary Alan Ferguson connect through music in ways that have brought acclaim for their six-song CD, "Some Bridges." Acoustic and, for the most part bluegrass artists, the two Garys contribute original songs that also venture into swing ("Chase Away the Blues") and blues ("Walking Boss").  Both musicians are seasoned veterans whose performance and/or writing credits include the Gary (Gene) Ferguson Band, Claire Lynch, and John Starling. Gary Gene's 'Last Day at Gettysburg' was a hit for Larry Sparks. This six-pack home brew epitomizes thoughtful lyrics, soulful melodies, emotive vocals, and compelling arrangements."
Check out the reviews! 
MerleFest's CASC has strong presence at IBMA World of Bluegrass activities in Raleigh
It was a Chris Austin Songwriting Contest reunion of sorts at this year's World of Bluegrass Songwriter Showcase. The International Bluegrass Music Association (IBMA) selected 10 songs, written by 14 songwriters (individuals and teams), for the 2015 WOB Songwriter Showcase. Five of these songwriters have received accolades as finalists in MerleFest's Chris Austin Songwriting Contest (CASC).
The songwriters invited to perform their songs at the Songwriter Showcase, held in the Raleigh Convention Center on Thursday, October 1, were:
"Grandpa's Overalls" – Joe Newberry, Lisa Bushman & Dale Ann Bradley
"Anyway" – Louisa Branscomb
"The Mountain Wayfarers" – Andrew Preston
"Jesus Drive the Train" –  Carley Arrowood
"Ain't No Good Goodbye" – Teresa Neal
"Deer in the Headlights Look" – Buddy Guido & Paul Kelly
"So Long, Lindytown" – David Morris & Chris Dockins
"Someday" – Melody Williamson
"Southern Train" – Gary Alan Ferguson
"How Alone" – Rob Russell
Of these songwriters, Louisa Branscomb, Buddy Guido, Paul Kelly, David Morris and Gary Alan Ferguson have been finalists at MerleFest's CASC. Branscomb and Morris won first place in the CASC.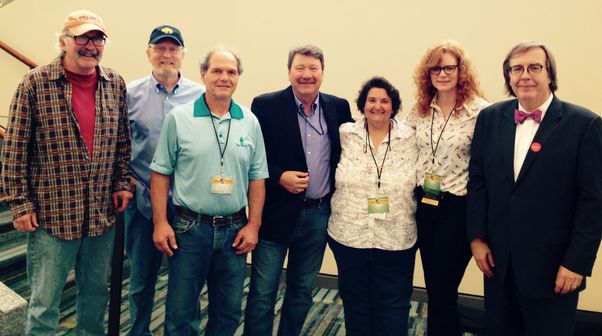 Eight participants in the IBMA 2015 Songwriter Showcase and Song Circles have been finalists in MerleFest's Chris Austin Songwriting Contest: (left to right) Paul Kelly, Willie Schoellkopf, Buddy Guido, Gary Alan Ferguson, Dawn Kenney, Becky Buller and David Morris. Louisa Branscomb is not pictured. Louisa Branscomb and David Morris won first place in the CASC.
WOB Songwriter Showcase is a coveted opportunity during the International Bluegrass Music Association's World of Bluegrass. The association invites some of the best up-and-coming songwriters in bluegrass and roots music to perform their original bluegrass songs to the best bluegrass artists and producers in the industry. This year IBMA selected 10 songs from over 60 applications for the showcase.
Prior to the World of Bluegrass Songwriter Showcase, IBMA held its Song Circles on Wednesday. This year four of the hosts of the Song Circles have been finalists or winners of the CASC: Becky Buller, Donna Hughes, Dawn Kenney and, again, David Morris. IBMA named Becky Buller as Bluegrass Songwriter of the Year at last night's award ceremony. Buller's "Southern Flavor" also won Recorded Event of the Year. For "Southern Flavor," which is a rare, unreleased song by the late Bill Monroe, Buller enlisted the help of a few original Blue Grass Boys, Monroe's longtime band, and some of her own personal heroes who share the award with Buller: Peter Rowan, Michael Feagan, Buddy Spicher, Ernie Sykes, Roland White and Blake Williams. Stephen Mougin of Dark Shadow Recording produced the song.
"We are extremely proud of all finalists in the Chris Austin Songwriting Competition," said Laurie Brintle-Jarvis, coordinator for the CASC at MerleFest. "But I will admit that I get really excited when I come to an event like IBMA and see how many CASC finalists have established themselves as leaders in the music industry. I think that is why so many aspiring songwriters find value in entering the Chris Austin Songwriting Contest. We started accepting applications for the 2016 contest just yesterday. And I have no doubt that this year's cohort of finalists will one day be on stage at a future IBMA World of Bluegrass event."
Many CASC alumni have achieved great success in the music industry. Among these are Gillian Welch (1993), David Via (1997, 2001), Johnny Williams (1998, 1999), Tift Merritt (2000), Becky Buller (2001), Michael Reno Harrell (2003), Adrienne Young (2003), Martha Scanlan (2003), Sam Quinn (2006) and Jeanette Williams (2007). Recent alumni Lera Lynn (2011) has appeared on Garrison Keillor's "A Prairie Home Companion," performed on 'The Late Show with David Letterman' and now lends her musical talents to the critically-acclaimed HBO series "True Detective."
Now in its 24th year, the Chris Austin Songwriting Contest is an extraordinary opportunity for amateur writers to have their original songs heard and judged by a panel of Nashville music industry professionals, under the direction of volunteer contest chairperson, Grammy-winning singer/songwriter Jim Lauderdale. MerleFest, presented by Window World and slated for April 28-May 1, 2016, is an annual homecoming of musicians and music fans that takes place on the campus of Wilkes Community College in Wilkesboro, N.C.
Aspiring songwriters may submit entries for the 2016 Chris Austin Songwriting Contest using the online entry form (www.merlefest.org/ChrisAustinSongwritingContest/) or by mailing entries to: MerleFest/CASC, PO Box 120, Wilkesboro, NC 28697. Early birds take note: during the month of October and November, all entries for the CASC will receive an early entry discount price of $25 per entry. Submissions received in December and January will require a $30 fee per entry.
The deadline to enter the CASC will be February 1, 2016. All lyrics must be written in English and no instrumentals will be accepted. To read more about the contest rules and how to enter, visit http://merlefest.org/casc#tab-4.
MerleFest will announce its initial lineup for the 2016 festival on November 10, the same day ticket sales begin. Ticket pricing information and purchase options can be found at www.MerleFest.org or by calling 1-800-343-7857. Fans are encouraged to take advantage of early bird purchase discounts.
MerleFest, considered one of the premier music festivals in the country, is an annual homecoming of musicians and music fans held on the campus of Wilkes Community College in Wilkesboro, North Carolina. MerleFest was founded in 1988 in memory of the son of the late American music legend Doc Watson, renowned guitarist Eddy Merle Watson. MerleFest is a celebration of "traditional plus" music, a unique mix of traditional, roots-oriented sounds of the Appalachian region, including old-time, classic country, bluegrass, folk and gospel and blues, and expanded to include Americana, classic rock and many other styles. The festival hosts a diverse mix of artists on its 13 stages during the course of the four-day event. MerleFest has become the primary fundraiser for the WCC Endowment Corporation, funding scholarships, capital projects and other educational needs.