Virginia Selected for IBMA SongwriterShowcase! 
Gary's song "Virginia" has been selected for the 2019 IBMA Songwriter Showcase that will be held on September 26 at the IBMA World of Bluegrass in Raleigh.  Check it out in Audio!
It's Here!
East of Monroe's debut CD, By The River's Edge, is now available at CDBaby, iTunes, Amazon, eastofmonroe.com and other retailers.  For more information, please visit: http://cdbaby.com/cd/eastofmonroe Two Wammie Nominations!
 Gary received two Wammie nominations from the Washington Area Music Association for the 30th annual Washington Area Music Awards: Bluegrass Instrumentalist and Bluegrass Recording (with Gary Gene Ferguson for Some Bridges).
Thanks everyone and congratulations to the other nominees!
IBMA Songwriter Showcase! 

Gary's song "Southern Train" was selected for the 2015 IBMA Songwriter Showcase that was held at the IBMA World of Bluegrass in Raleigh.
Ferguson & Ferguson - Some Bridges
Ferguson & Ferguson "Some Bridges" EP is now available on CDBaby, Amazon and iTunes. Including five original songs and one classic number, the recording features performances by Ron Stewart and Mark Schatz and was engineered by George Hodgkiss.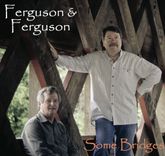 Here is what noted musicologist Jack Bernhardt says about "Some Bridges:" 
"Bluegrass fans and fans of good music generally, may want to check out Ferguson and Ferguson, 'Some Bridges.' Although they claim no genealogical nexus, Gary Gene Ferguson and Gary Alan Ferguson connect through music in ways that have brought acclaim for their six-song CD, "Some Bridges." Acoustic and, for the most part bluegrass artists, the two Garys contribute original songs that also venture into swing ("Chase Away the Blues") and blues ("Walking Boss").  Both musicians are seasoned veterans whose performance and/or writing credits include the Gary (Gene) Ferguson Band, Claire Lynch, and John Starling. Gary Gene's 'Last Day at Gettysburg' was a hit for Larry Sparks. This six-pack home brew epitomizes thoughtful lyrics, soulful melodies, emotive vocals, and compelling arrangements."
Check out the reviews!